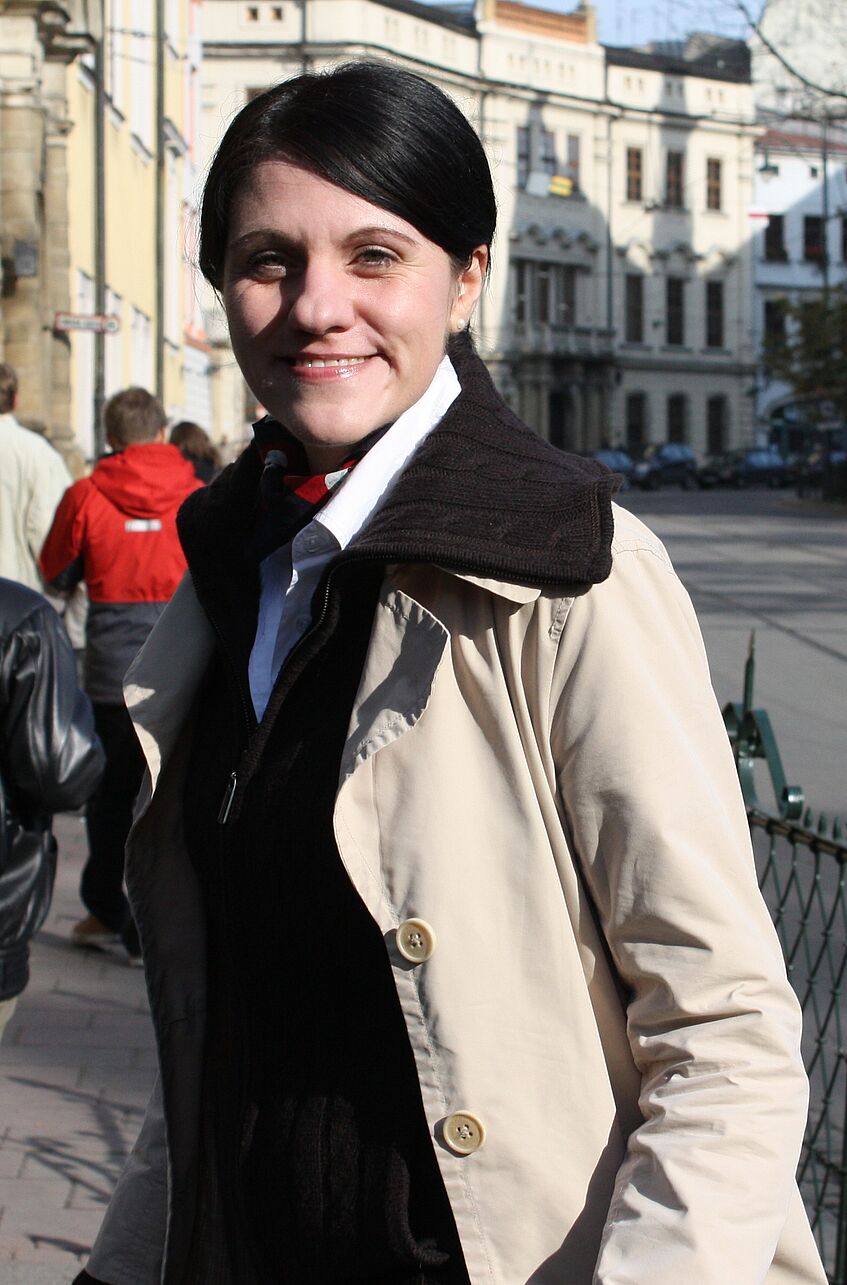 Dr. Katharina Friedla
Post Doctoral Fellow (Gerda Henkel Foundation; affiliated with the International Institut for Holocaust Research Yad Vashem and the Polish Center for Holocaust Research Warsaw)
Katharina Friedla has studied History, East European and Jewish Studies at the Free University in Berlin and the Hebrew University in Jerusalem. In 2013 she received doctorate from the University of Basel, Switzerland, with her dissertations thesis: "Jewish Lifeworlds in Breslau and in Wroclaw, 1933–1949: Dealing and Survival Strategies, Self-Assertion and Identity". The book was published by Böhlau Verlag in 2015.
Between 2002 and 2012 she has been working as researcher, translator and scientific advisor for many institutions in Germany and abroad, among others for the Foundation Memorial to the murdered Jews of Europe Berlin, German Historical Museum Berlin, Free University Berlin, University of London, and the Ronald S. Lauder Foundation Ukraine.
Recipient of several Scholarships and Grants, among others: at the Leo Baeck Institute and the YIVO Institute for Jewish Research New York; Vienna Wiesenthal Institute for Holocaust Studies; Rothschild Foundation Europe.
Katharina Friedla is currently Research Fellow at the International Institute for Holocaust Research Yad Vashem and the Polish Center for Holocaust Research in Warsaw, where she is working on her habilitation project on "Topography, Experience and Memory of Life in Transition: Polish Jews in the Soviet Union (1939–1959)".
Abstract
The Expulsion of Polish Jews from Germany 1938 – Experiences of Refuge and Rescue in Transnational Perspective
Through an analysis of archival materials, memoirs, and interviews, this paper shades light on the unknown aspects of the deportation of Polish Jews from Germany in October 1938. For many years, historians have not paid attention to the deportation of over 17,000 Jews from the Third Reich to Poland, on October 28-29, 1938. In the historiography of anti-Jewish persecutions of the 1930s, these events were overshadowed by the November Pogrom. Despite recently appearing publications, this picture of the events remains incomplete.
Looking closer to several cases, this paper presents a description of the lives of those who had managed to leave Poland before the destruction began. After their expulsion from Germany to Poland some of the refugees were forced to live in the refugee camp in Zbąszyń for several months until they were allowed to move to other parts of Poland. By the outbreak of the WWII many of those refugees escaped to the Eastern parts of Poland which were at that time under the Soviet occupation. Soon they were forced to leave again: at first classified as "class enemies or political undesirable elements", having been villainized, arrested and finally deported by the NKVD to the interior of the Soviet Union.
This presentation claims that the biographies of Polish-Jewish refugees from Germany reflect a variety of forms of refuge, flight, exile, and persecution as well as various strategies, possibilities, and complexity of survival. Each of these survival stories is complex and multi-faceted. Together they all record dramatic events, the Polis-Jewish refugees faced before and due to the outbreak of the World War II. This presentation seeks to suggest another approach by mapping the Jewish experiences of expulsion and flight via its geographic margins of new Diaspora spaces.
Programme: Panel 6, Thursday, 6 September 2018, 13:00-14:30